TransGear Airways #13 -- Saturday, August 14th, 2010
last updated Wednesday, September 1st, 2010 @ 12:53 UTC, by Yourgod

                                   ---------------------------    ---------------------------
Flight    Pilot &                  Departure                      Arrival                       Flight
No.       Aircraft        Leg      Airport           Time         Airport           Time         Time
-------------------------------------------------------------------------------------------------------
TGA-08    redneck         Leg #2   Milan (LIMC)      16:25 UTC    Zurich (LSZH)     17:05 UTC   40mins
          Boeing 787      Leg #3   Zurich (LSZH)     17:20 UTC    Hamburg (EDDH)    18:45 UTC   85mins
-------------------------------------------------------------------------------------------------------
TGA-09    nickyivyca      Leg #2   Milan (LIMC)      16:10 UTC    Zurich (LSZH)     16:50 UTC   40mins
          Boeing 787      Leg #3   Zurich (LSZH)     17:05 UTC    London (EGLL)     18:35 UTC   90mins
-------------------------------------------------------------------------------------------------------
TGA-231   yourgod         Leg #1   Venice (LIPZ)     14:55 UTC    Milan (LIMC)      15:40 UTC   45mins
          Boeing 777      Leg #2   Milan (LIMC)      15:55 UTC    Zurich (LSZH)     16:35 UTC   40mins
                          Leg #3   Zurich (LSZH)     16:50 UTC    Salzburg (LOWS)   17:40 UTC   50mins
-------------------------------------------------------------------------------------------------------
TGA-232   clrCoda         Leg #1   Venice (LIPZ)     15:00 UTC    Milan (LIMC)      15:45 UTC   45mins
          Boeing 777      Leg #2   Milan (LIMC)      16:00 UTC    Zurich (LSZH)     16:40 UTC   40mins
                          Leg #3   Zurich (LSZH)     16:55 UTC    Salzburg (LOWS)   17:45 UTC   50mins
-------------------------------------------------------------------------------------------------------
TGA-42    Lukosius        Leg #1   Ajaccio (LFKJ)    14:50 UTC    Milan (LIMC)      15:45 UTC   55mins
          Ilyushin IL-96  Leg #2   Milan (LIMC)      16:00 UTC    Zurich (LSZH)     16:40 UTC   40mins
                          Leg #3   Zurich (LSZH)     16:55 UTC    Lyon (LFLL)       17:40 UTC   45mins
-------------------------------------------------------------------------------------------------------
TGA-54    Wayward         Leg #1   Rome (LIRF)       14:50 UTC    Milan (LIMC)      15:50 UTC   60mins
          Boeing 777      Leg #2   Milan (LIMC)      16:05 UTC    Zurich (LSZH)     16:45 UTC   40mins
                          Leg #3   Zurich (LSZH)     17:00 UTC    Dusseldorf (EDDL) 17:55 UTC   55mins
-------------------------------------------------------------------------------------------------------
TGA-89    Jester          Leg #1   Budapest (LHBP)   15:15 UTC    Milan (LIMC)      16:00 UTC   45mins
          Boeing 777      Leg #2   Milan (LIMC)      16:15 UTC    Zurich (LSZH)     16:40 UTC   25mins
                          Leg #3   Zurich (LSZH)     16:55 UTC    London (EGLL)     17:45 UTC   50mins
-------------------------------------------------------------------------------------------------------
G-ATPF    Armchair Ace    General       Venice San Nicolo (LIPV) to Milan (LIMC)
          HondaJet        Aviation      Approx arrival into LIMC around 15:50-16:00 UTC
-------------------------------------------------------------------------------------------------------


Milan (LIMC) Arrivals & Departures           Zurich (LSZH) Arrivals & Departures
-----------------------------------          -----------------------------------
15:40 UTC    TGA-231 arriving                16:35 UTC    TGA-231 arriving
15:45 UTC    TGA-232 arriving                16:40 UTC    TGA-232 arriving
15:45 UTC    TGA-42 arriving                 16:40 UTC    TGA-42 arriving
15:50 UTC    TGA-54 arriving                 16:40 UTC    TGA-89 arriving
15:55 UTC    TGA-231 departing               16:45 UTC    TGA-54 arriving
16:00 UTC    TGA-89 arriving                 16:50 UTC    TGA-09 arriving
16:00 UTC    TGA-42 departing                16:50 UTC    TGA-231 departing
16:05 UTC    TGA-54 departing                16:50 UTC    TGA-232 departing
16:10 UTC    TGA-09 departing                16:55 UTC    TGA-42 departing
16:15 UTC    TGA-89 departing                16:55 UTC    TGA-89 departing
16:25 UTC    TGA-08 departing                17:00 UTC    TGA-54 departing
-----------------------------------          17:05 UTC    TGA-08 arriving
                                             17:05 UTC    TGA-09 departing
                                             17:20 UTC    TGA-08 departing
                                             -----------------------------------

ATC:
     LIMC - Redneck
     LSZH - Jomo

Video:
Courtesy of Redneck
Part 1
Part 2
Part 3
Part 4
Part 5


Screen Shots:
TGA 13 images


Original Announcement:
Ok, here are all the scheduling details for the August edition of TransGear Airways. The event will be held this Saturday (14th August).

We acknowledge that this is quite short notice, but we thought we might as well have an event anyway.

The whole premise of the event will be similar to the most recent TGA events. i.e. You will have three flights (legs) incorporating two hubs. The two main differences are (1) that the whole event will be more condensed, in a time sense, and (2) all flights will be 'one-way'. For example leg #2 (which is the leg flown between the two hubs) will see aircraft all flying the same direction.

This month's event is titled "TransGear Airways #13 - The Alps" and will be centred around two hubs - Milan Malpensa, Italy (LIMC) and Zurich, Switzerland (LSZH).

SCHEDULE SUMMARY

Leg 1
Leg #1 will feature flights into Milan (LIMC) from outlying spoke airports. The first flight will depart at 14:30 UTC and the last flight at 14:55 UTC. Flight times (based on most commercial airliners) will range from 45mins to 90mins. All flights into Milan should arrive within 20mins of each other. Layover time in Milan is approx 15mins. Here is a map of the Leg #1 routes: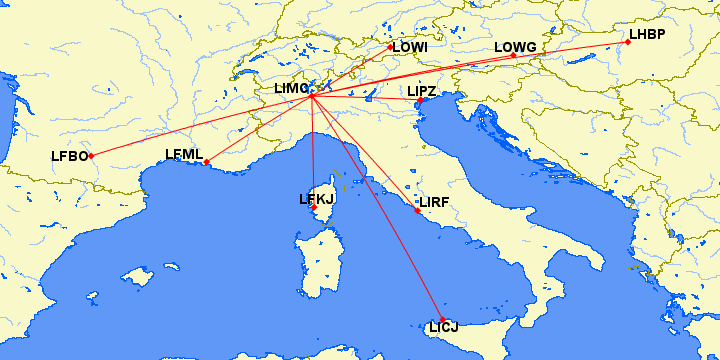 Leg 2
Leg #2 will be the hub-to-hub flight from Milan to Zurich. Flight times should be around 40mins. Take note that you will be flying over the Alps and will have to take that into account. The departure time of this leg will be determined by what flight you choose for leg #1, but as your layover time in Milan is around 15mins, you will depart on leg #2 around 15mins after arriving (approx between 15:55 UTC and 16:15 UTC).

Leg 3
Leg #3 will be the last leg and will be all flights out of Zurich, heading towards some more spoke airports. Again, your layover time in Zurich is around 15mins, so you will depart on this leg around 15mins after arriving in Zurich (approx between 16:50 UTC and 17:10 UTC). Like leg #1, flight times will range from 45mins to 90mins. Here is a map of the Leg #3 routes: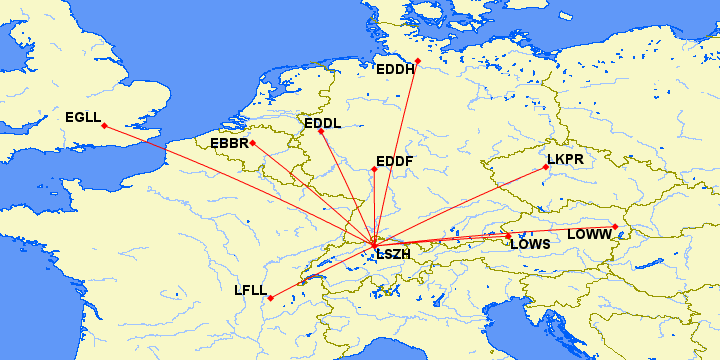 In summary:

Part (1): Leg #1 from spoke Airport to Milan (depart between 14:30 and 14:55 UTC).
Part (2): 15mins layover at Milan.
Part (3): Leg #2 from Milan to Zurich (approx flight time of 40mins).
Part (4): 15mins layover at Zurich.
Part (5): Leg #3 from Zurich to spoke airport.


Here are the schedules: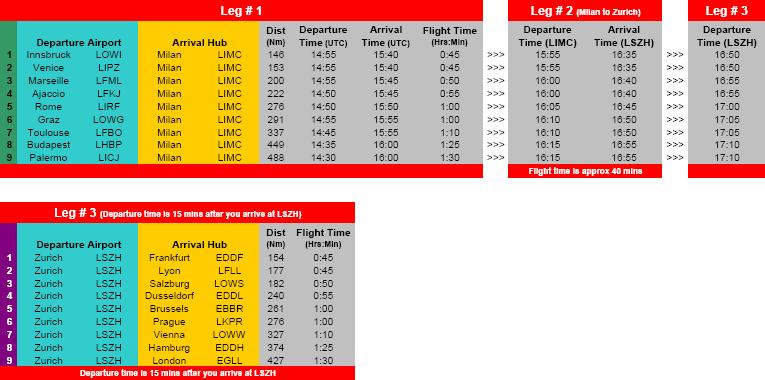 What you need to do now:

(1) Select your leg #1 flight from the GREEN column, and your leg #3 flight from the PURPLE column. Your flight times will be determined by what route you select, in particular leg #1. We will confirm your flight times on this forum once you submit your request.
(2) Select your aircraft (make sure it is on the "Approved Aircraft" list on the TransGear website (http://transgear.treborlogic.com/approved-equip.html).

Unlike previous TGA events, you will be able to select the same routes as other pilots.

Your flight number will be determined by the numbers you select from the GREEN column and the PURPLE column. For example if you select the Innsbruck-Milan flight (number 1 from the green column) and Zurich-Brussels (number 5 from the purple column), your flight number will be TGA15. If someone else also selects those same exact flights, then we add another digit on the end (e.g. TGA151 and TGA152). If you cannot fly all legs, just select what you will most likely fly.

General Aviation:
GA pilots are more than welcome to participate, and have the option of flying with a TGA flight number if they want. Those who want to use a TGA flight number will be given the numbers TGA901 through to TGA909 (it's very unlikely that we would get more than 9 GA pilots wanting TGA flight numbers). The only rule for GA pilots is that they must follow ATC instructions.